ViscoTec is the dispensing specialist from Bavaria in Germany. The company manufactures systems and components required for conveying, dosing, applying, filling and emptying medium to high-viscosity fluids.
All fluids showing a viscosity of up to 7.000.000 mPas can be conveyed and dispensed. And this almost pulsation-free and with extremely low shear force. You will receive comprehensive advice for every application. Also extensive tests will be carried out for particularly complex challenges. Our dosing pumps and dosing systems are optimally adjusted to the respective application. They are providing the best possible options for cleaning them in food applications, for example.
Company history
2018

Award from Focus BUSINESS as top employer.
"Our employees are our capital! They have innovative ideas, represent our company and win the trust of our customers again and again," says Managing Directors Georg Senftl and Martin Stadler.
Renewed awarding the prize BAYERNS BEST 50 to ViscoTec. This makes us still one of the fastest growing mid-sized companies in Bavaria.
2017

A very eventful year: ViscoTec celebrated its 20th anniversary together with the inauguration of the new CIC (Customer & Innovation Centre).
A new branch was also established: ViscoTec India Pvt. Ltd. in Pune.
2015

Sale of pump number 30,000 from ViscoTec – a filling pump for high viscosity pharmaceuticals.
2014

Awarding the prize BAYERNS BEST 50 to ViscoTec. This makes us one of the fastest growing mid-sized companies in Bavaria.
2013

Foundation of ViscoTec China in Shanghai.
2011

Foundation of ViscoTec Asia in Singapore.
Relocation to new business premises in Töging.
2009

Foundation of ViscoTec America in Georgia.
2008

Awarding the prize "Top 100" to ViscoTec.
Extension of the production hall.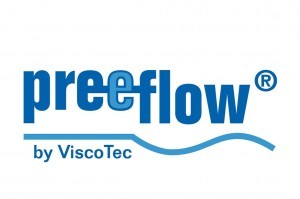 Launch of the brand"preeflow®".
2007

Restructuring of the organisation:
Division into the Adhesives & Chemicals, Food & Pharma and Components & Devices divisions.
Sale of pump number 20,000.
1997

ViscoTec developed from a department of Resch Maschinenbau GmbH and was founded in 1997. The department's focus was on producing pump technology for the food, pharmaceutical and chemicals industries.
At ViscoTec you receive technically sophisticated solutions for even the most complex tasks. Furthermore you also benefit from obtaining all the components you need for your application from a single source. So the smooth interaction of all components is guaranteed. And you do not need to worry about problems at interfaces, which can often be complicated and expensive.
The right dose for every industry: Regardless of whether it's battery-powered e-mobility, the smallest bead application in electronics production or precise filling processes in the food or pharmaceutical industry. With ViscoTec's systems based upon the endless piston principle, your viscous materials are fed and dosed pulsation-free and also with extremely low shear.
Our proven endless piston principle offers numerous advantages. Next to the feasibility of component-independent sizes, the precision of the technology takes a high priority. The endless piston principle is also a technology suitable for a variety of product materials. Especially material properties such as abrasive, shear-sensitive or highly filled are perfectly encompassed.
All from one source
ViscoTec is a dynamic medium-sized company with approximately 260 employees worldwide. The perfect blend of many years of industry experience, system know-how, knowledge of materials and also new promising ideas drives the company. And creates the basis for finding the optimal solution for every application. As a one-stop-shop, ViscoTec enables a simple and fast implementation of an entire dosing process.
Confidence, the trust in employees, customers and suppliers, that's what ViscoTec Pumpen- u. Dosiertechnik GmbH stands for. This confidence is one of the main pillar of cooperation for my position as CEO in our fast moving time. As a result our customers can rely on our competence in the dosing technology – that is important for us. ViscoTec – perfectly dosed"! Georg Senftl